TETRA Solutions By Systel
Overview:


A comprehensive range of support services to maximize system up time and availability, including: support; maintenance; training; optimization; security and network management services.
Owner:
Owned by Middle East Radio Communications MERC(Public digital Tetra and analog Trunking license holder in Egypt) subsidiary from Telecom Egypt.
Coverage:
With all Egypt covering (Cairo – Giza – Helwan – Sades men October – oases – Aasher Men Ramadan – Sharm el Sheikh – Hurghada – Ismailia – Alexandria – the northern coast of Alexandria to El Alamein – Damietta – Port Said – Kantara – Suez – Kafr El Sheikh – Dakahlia – El Gharbiaa – El Beheraa – El Sharqiaa – Monofeya – Kalyobiya – Cairo-Alexandria agricultural and desert Road – Wadi Natrun by Alamein Road – El Arish – Rafah – El Tour – Beni Suef – Fayoum – Minya – Assiut – Sohag – Qena – Luxor – Aswan – Abu Simbel).
How It Work:
All devices work in separate groups without overlap so that the total of all the work is independent of the other groups , while the total of all devices work only with each other .
Advantage:
Lack of need for infrastructure ( redirector and radio frequencies and towers and antennas ……. etc. )
Cover a large number of provinces in addition to the expansion of the network at no cost to the user.
Division setups to separate working groups .
Get a license within 24 hours and that from the Middle East Telecommunications .
Susceptibility to choose a specific person to communicate with any of the group by a special device .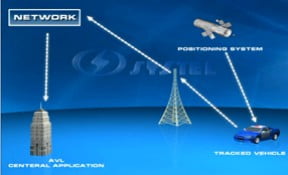 '' SOLUTION IDEA "
When you install GPS Tracking devices in all of your vehicles and equipment you benefit from real-time tracking, which means you know at every moment where your assets are. Add for that the ability to voice contact your moving vehicles any time any where by one click groped or separately